In 2012 Mark Fields at NAIAS, aka Detroit Auto Show promised a slew of new vehicles building a whole new Lincoln Motor Company with unique product, unique power trains and several new vehicles over the next four years. Tuesday 1/12/2016 the Lincoln Motor Company unveiled its production ready Continental which promises to deliver the final punch closing the loop on that bold prediction.
What exactly is the Continental? Size wise it appears to be about the same size as the all new Caddy CT6 slotting right in the middle of traditional mid size and full size luxury cars. It doesn't offer a lot in the way of power train options, but with a 400 hp twin turbo V6 as standard what more could you want? Add in standard all wheel drive and this will be a capable car able to run with the best in their class. Bold prediction...more classic styling and devotion to pure luxury will put this car on a lot of buyers maps and be chosen over the CT6.
What I really like about the new Continental is that it has many cues that remind you of the last great Continental sedan of the early 60s. The new grill with the cutouts that mimic the Lincoln logo are a nice touch. Add in all the technology and pure luxury touches this car will run with the best of them. No one can dare call this one a rehashed Ford product as it is pure Lincoln, Pure quiet, competent luxury.
But hey, don't take my word for how cool this car is in person, the Detroit Free Press named this car the most important new car reveal at this year NAIAS.
More about the Lincoln Continental after the jump from their press release:
Lincoln Motor Company heralds the return of its flagship – the all-new Lincoln Continental – an elegant, effortlessly powerful, serene full-size sedan that delivers quiet luxury to the industry's most discerning customers.
Beginning this fall, Continental offers first-class travel for clients in America and China, bringing warm, human touches and a contemporary design.
The full-size sedan is designed to appeal to culturally progressive clients who define luxury on their own terms – craving superior quality, craftsmanship and safety.
"The Continental name has long been associated with the ultimate in Lincoln beauty and luxury," said Kumar Galhotra, president of Lincoln. "With the all-new model, we are focusing on creating more human, personally tailored experiences for our clients – providing what we call quiet luxury."
All-new Continental design is thoroughly modern, with Lincoln's new signature grille and an athletic profile that is dynamic and progressive.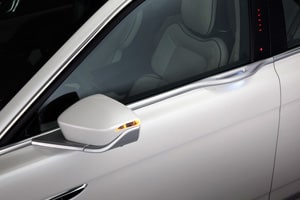 Lincoln's new flagship welcomes drivers with a brand-exclusive lighting sequence. As the driver approaches the car with the key, LED signature lighting in the lower front fascia and taillamps subtly engages, while signature lighting in the headlamps awakens in a fluid motion. Lincoln mat lights then brighten the pavement around the front doors, helping show any hazards, while select interior lights warmly illuminate the cabin.
Continental door handles are designed to offer elegant and effortless entry with new E-latch door release. The release is discreetly integrated within the beltline, leaving the body side clean. With the gentle touch of a button, the vehicle's doors pop open, then use available power-cinching technology to automatically close and secure.
An elegant available panoramic sunroof covers nearly the entire roof area; the front half slides up and over the rear – creating a large open-air driving experience and an even greater feeling of spaciousness for up to five Continental occupants.
Continental offers available technologies that help create better and safer drivers.
The all-new Lincoln-exclusive 3.0-liter V6 engine with twin turbochargers that produces a projected 400 horsepower and 400 lb.-ft. of torque [1] is designed for smooth, responsive, yet quiet power.
Continental's available all-wheel-drive system is paired with Dynamic Torque Vectoring that transfers torque on demand to the appropriate rear wheel when driving through corners – providing confident handling and stability.
Lincoln Drive Control provides the driver a choice of three settings – comfort, normal and sport – adapting steering and suspension settings to tailor ride and handling. Available adaptive steering helps optimize steering response, enabling the vehicle to react more smoothly and precisely to driver input.
Pre-Collision Assist with Pedestrian Detection uses radar and camera technology to scan the roadway ahead and, if a collision risk with a vehicle or pedestrian is detected, provides a warning to the driver. If the driver does not respond in time, the system can automatically apply up to full braking force to help reduce the severity of or even eliminate some frontal collisions. Pre-Collision Assist may help drivers avoid rear end collisions with other vehicles at all speeds, while Pedestrian Detection can help the driver avoid pedestrians at lower speeds – both may reduce the severity of forward collisions or even prevent certain forward collisions. [2]
Effortless assistance for the daily commute is available with optional adaptive cruise control, which can automatically slow Continental in stop-and-go traffic – resuming speed when traffic clears.
To take the stress out of parallel and perpendicular parking, the new 360-degree camera system uses views from cameras mounted in the grille, decklid and 180-degree side mirrors, then seamlessly stitches these snapshots together to create an image in the screen so the driver can see around the car – as if a camera is overhead.
The all-new Continental interior is designed to help all occupants rejuvenate.
One highlight is Lincoln's new Perfect Position Seats – inspired by private jets and high-end office furniture – that can be adjusted up to 30 ways. The patented design allows the seat to adjust to an individual's body shape and weight for optimal stretch and comfort. Available features of these seats include massage, heat and cooling; and independent thigh extensions to provide support.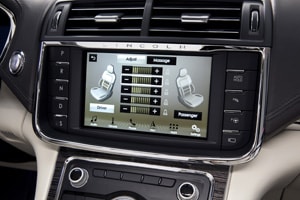 Rear passengers can enjoy first-class travel amenities, too, with such available features as audio and climate controls, sunshades, and reclining, heated, cooled and massaging seats. The streamlined interior provides generous rear legroom.
Continental occupants also can enjoy an available Revel® audio system developed to work in concert with the interior design and acoustics, transforming the cabin into a personal amphitheater with three distinct listening modes – Stereo, Audience and On Stage. Use of the E-latch release enables optimal speaker positioning in the Continental doors, alongside the conveniently located seat controls.
Innovations in managing vehicle noise and vibration, including Active Noise Control and acoustic laminated glass create a quiet, comfortable environment conducive to conversation or contemplation.
For those seeking the highest expression of Lincoln luxury, three Lincoln Black Label designer themes are available – Chalet, Thoroughbred and Continental-exclusive Rhapsody.
Inside, opulent materials include leather seating, leather-wrapped console and instrument panel, unique stitching, genuine wood or aluminum appliqués.
All models feature new design details. Stitching on the seats is specified at six to seven stitches per inch for a couture-like appearance, and the slats of the center console door are laser-cut to maximize consistency of the grain pattern.
The all-new Lincoln Continental will be produced at Flat Rock Assembly Plant in Michigan. The Lincoln flagship goes on sale this fall.
-30-
This week I got to spend time at NAIAS as a guest of Ford. Yes, Guest, its a perk of being a digital influencer. They give me the experience, I write it in my voice with my own thoughts. The opinions here are purely mine, as if anyone could tell me what to say.
Pics from NAIAS aka the Detroit Auto Show can be found in a
flickr album

.